How to Choose a Wax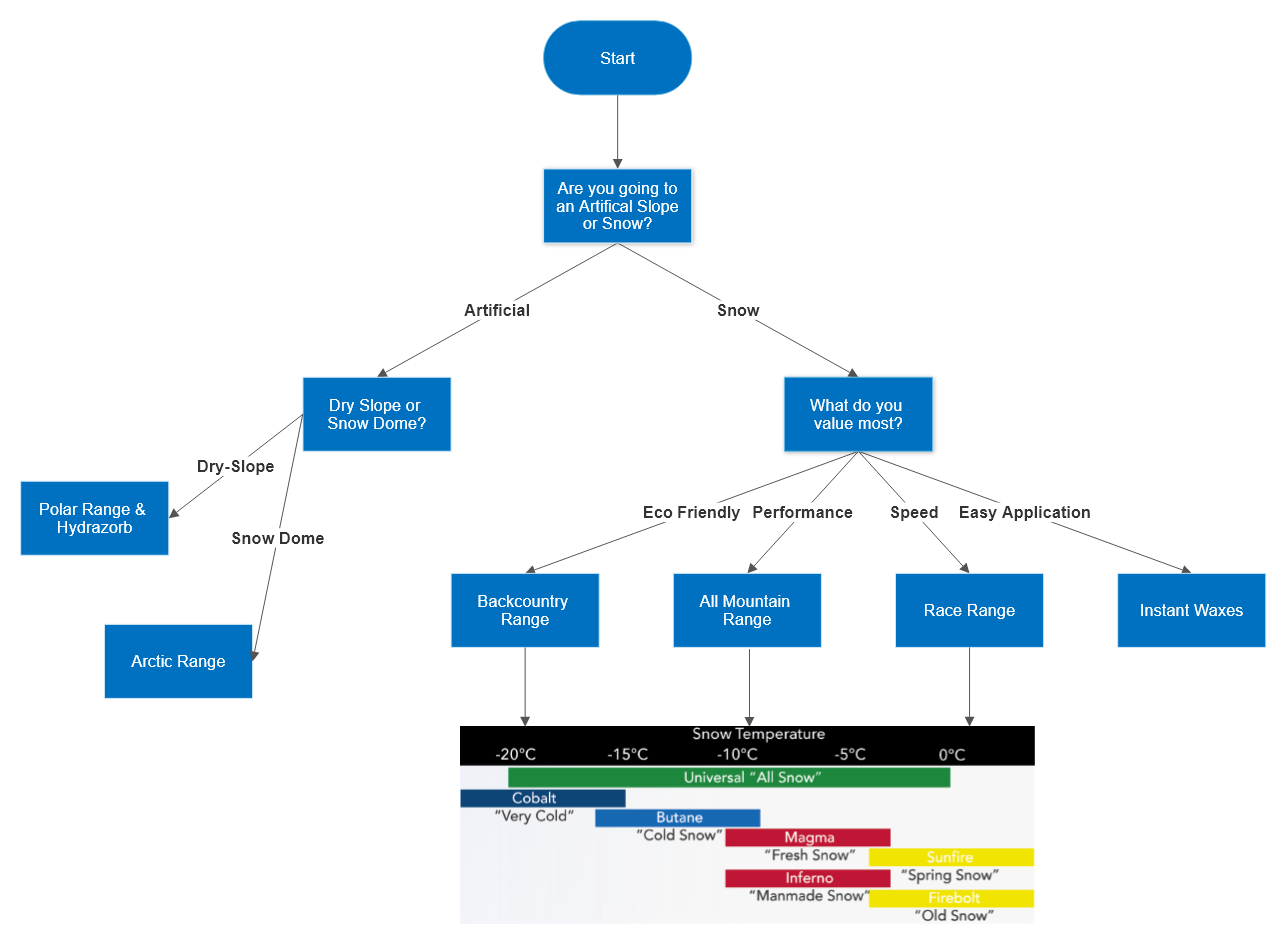 ---
Waxes Info & FAQs
Graphite additives in the wax reduce static friction caused by dust particles in the snowpack.  This is especially common on snow where melting and refreezing has occurred numerous times.  The addition of graphite to our waxes provides an ideal combination wax for coarse, old or dirty snow to ensure a frictionless glide on your bases. 
DataWax manufacture FIVE different graphite waxes:
The ideal race wax for indoor snow surfaces and late season races when the snow tends to be older. This wax has great protective qualities but, more importantly is fast and hard enough to resist the abrasive nature of the snow crystals on race cources and inside a snow dome.
Perfect in snow at-6°C to -16°C
DataWax Graphite Race is an excellent iron on wax for cold temperature conditions
Iron on Temperature 120°C
DataWax Graphite TRAINING
DataWax Graphite Training is an excellent all condition wax for general skiing and is very durable so lasts a long time. In addition to graphite in contains a low fluoro balance ensuring great speed and smooth turns. It is an ideal training wax for indoors.
Graphite version of our best-selling Universal HP wax
 Pe

rfect for all snow types and temperatures

.

Extremely long lasting and ideal for long indoor training sessions.
DataWax Graphite PERFORMANCE
This wax has an excellent balance of high speed and great glide due to the combination of  graphite and Fluoro.  It is ideal for late season snowsports when the snow is old and on glaciers. A great alternative to Magma HP on older recycled snow.
• Best performance at snow temperatures 0°C to -8°C
• DataWax Graphite Performance  is best if ironed on but can also be rubbed on.
DataWax Graphite SPRING
Late season snow is often contaminated with particles of dust and dirt particularly in resorts with lots of snow cannons.
• Perfect wax when the snow temperature is at or above -2°C
• For best results use an iron to hot wax Graphite Spring into the base.
• DataWax Graphite Spring can also be used as a rub on wax.
• Ideal for end of season skiing
DataWax  Polar GX
       Part of the artificial slope range
Dry slope racing introduces a new set of practical issues when it comes to base preparation. These are created by the high friction and potentially massive heat build up created by long slopes and accumulated friction. This exothermic reaction is in danger of producing potentially base melting temperatures.

The Polar range was specifically designed with these challenging conditions in mind whilst still providing speed and most importantly protection to the base. The Polar range's main benefit is the way the wax penetrates the base to give lasting and accumulative protection. This means that waxing before every dry slope session is not a requirement. Polar waxes have a very high melting point, therefore when used properly will actually increase the melting point of the base plastics.

The Polar range includes:
The original Polar wax, fluorinated adding speed and glide while providing the protection your bases need for the challenges of dry slope racing.
Providing all the great benefits of Polar X, but with the addition of Graphite for extra speed and glide.
Dry slope skiing and boarding often needs an extra little something either for freestylers on their way into the park features, racers in the start gate or recreational skiers and boarders looking for some extra speed.

DataWax has two products perfect for all dry slope users. Both waxes are easy to slip into a pocket and will give you all the speed and glide you need. These are:
SuperSlip Wax Cream
Soft 'n' Slippy Wax Polish
For best glide for racing on Dendix and other artificial ski slopes you need to consider two things.
Firstly the slope is very abrasive and can melt the base of you ski. Even if the base does not melt it gets slower as it gets hotter and soft. Spraying water onto the slope helps but does not completely solve the problem, particularly if you are going fast and carving well.
Polar X and Polar GX if ironed into the base (particularly if it is done regularly) helps make the base tougher and more heat resistant. Polar X and Polar GX is also an excellent wax and gives good glide due to its constituents including the "fluoro". So you definitely need this wax.
Hydrazorb acts as a great lubricant it is fantastic if the slope is damp or wet but still very fast even if the slope is dry, I would always use this on damp or wet slopes. If the weather is very dry and there is no sprinkler system then Hydrazorb will work but I would also consider Soft 'n' Slippy
These waxes do not require an iron so are much faster to apply, however do not last as long. As the wax only sits on the base surface there is little or no nourishment to the base hence why iron on waxing is more common and protective.

There are two forms of rub on waxes:

Liquid based waxes
These are applied to the ski or board base and allowed to dry for a few minutes, before being polished or structured. They are extremely quick and easy to apply, and have some base penetration.

Rub on solid waxes
These are softer than iron on wax but are less durable. They are applied by gently rubbing the block of wax smoothly over the base to provide a thin and even layer of wax across the entire surface. For best results run the wax from tip to tail and finish by gently structuring the wax.

Rub on waxes are the ideal type of wax to take away with you for a mid holiday top up service and to use between hot waxing to ensure your equipment maintains good speed and glide.

DataWax offer:
Lightly penetrates the base with a high fluorocarbon content to give a high speed glide. Perfect as a racing start wax or for freestylers.
Soft 'n' Slippy Wax Polish
Specifically designed for dry slope users and very popular as a start wax for racers or to give a speed boost for freestylers. An extremely fast wax.
The first of DataWax's snowboard specific range. Strawberry scented and able to be used as either a rub on or an iron on wax with great lasting glide.
Two sticks of DataWax Classic, one red and one yellow. Perfect for having in your pocket on holiday for a quick rub on speed boost and increased glide.
How To Hot Wax
Hot Waxing is easy and you need only a few basic supplies.
1. Clean The  Base
Clean your base firstly by wiping it with a cloth or piece of paper towel. Then scrape away any old wax with an acrylic wax scraper.
Spray with DataWax Base Cleaner and wipe again to remove any dirt and grease from the base.
Ideally use a Datawax Brown Structure Pad or a a brass brush aggressively from tip to tail to further clean the base and remove oxidized base material.
Finally wipe again with a paper cloth and you are ready to go!
2. Apply Wax
Hot waxing is best. (Liquid or paste waxes may increase glide for a short time, however they quickly wear off and don't protect your base.) Simply hold the bar of wax against the base of the iron and allow the melted wax to drip onto your ski base. Run a series of drips in a "zigzag" pattern the length of the base. Set the iron temperature so wax flows easily, but doesn't "smoke" the wax. (If the wax is smoking then it is too hot!)
TIP:- it is better to keep the iron slightly cooler and to use slightly more wax. This takes a little more time but takes away any risk of burning the base and also helps the wax penetrate the ski better.
 Iron the wax into the base for 30 - 45 seconds to spread the wax evenly across the base and to allow it to penetrate into the base. This will probably require 2-3 passes along the length of the base. Make sure the wax is as even as possible and make your last pass from tip to tail.
REMEMBER: It is very important to keep the iron moving to prevent damage to the ski.
3. Cool and Scrape
Let wax cool to room temperature for at least 40 minutes- ideally overnight. Scrape off excess wax with an acrylic scraper leaving a very thin layer on the base.
Remember - You want the wax IN the base and not ON the base.
4. Brush and Polish For Maximum Glide
Finally brush surface wax out of base structure/texture with a nylon  or horsehair brush or a green structure pad. This clears channels for moisture which help break snow surface suction and enhances glide. 
General Skiing or Boarding
The most popular range of waxes is the 
Data
Wax
 HP (High Performance) Range.These waxes contain a low concentration of fluorocarbon which makes the wax smooth fast and easy to apply.Choose one of these waxes. If you are new to waxing or you are not sure of the snow conditions then choose Universal HP.If you are clear about the conditions use Butane HP, Magma HP or Sunfire HP.
Racing and Freestyle
If you are racing and need to squeeze the very best speed form your skis or the most height from your jumps use DataWax Magma Race or if the snow is very cold DataWax Butane Race. These waxes contain a high concentration of fluorocarbon and are VERY fast. 

Touring and Cross Country
Fluorocarbon at high concentration is known to interfere with the glue on skins so it is best to avoid "fluoro" containing waxes. The DataWax HC (Hydrocarbon range contains no "fluoro" and is therefore perfect for this use. They are still fast waxes so are also an economical for general use.
 
Late Season Man made and Indoor Snow
Snow that has been recycled tends to contain particles of dust and other contaminants. These particles create static electricity which makes sliding more difficult. Graphite in wax dissipates the static and makes your skis and board run smoothly and quickly. In these conditions use a DataWax Graphite wax.
 
Artificial Slopes
Artificial slopes are very abrasive and heat the base causing it to be sticky. The wax serves two purposes, Firstly to help protect the base from melting and secondly to make the ski or board go faster. In using an artificial slope use a DataWax Polar X or Polar GX wax.

Temperature Specific Wax Ranges
Once you've got the right range, selecting your wax is mainly affected by snow temperature. Remember that it is the temperature of the snow and not the air temperature. The only way to measure snow temperature accurately is to use a thermometer, however this is rarely practical, especially if you are servicing before your holiday!

Universal wax is designed for all snow conditions and covers the wide range of snow temperatures and types. This makes it ideal for anyone unsure of the conditions they will be skiing or boarding in. DataWax's Universal is also designed to be extremely long lasting by having additives to ensure it stays in the base for as long as possible. Universal is ideal for all conditions, therefore does not offer the same level of performance as a temperature specific wax.

Using the correctly selected temperature wax will massively increase performance, however a difficult balance exists as the wrong wax can actually increase drag due to the structure of the snow and the wax being incompatible. If you are in doubt, we suggest using Universal or a wax slightly colder than you predict the snow to be.
The colder waxes are harder, therefore will not create drag against the snow surface.

DataWax manufacture three high performance and temperature specific waxes for use on snow in alpine environments.

These performance grade waxes are:
Butane
For -6 to -16°C, manmade and glacier snow
Magma
For -8 to 0 °C, mid season
Sunfire
For -2°C and warmer, wet slushy snow

DataWax waxes contain fluorocarbons, which are very hydrophobic (repel water molecules). Our level of fluorocarbons are designed to increase glide and speed, however are not recommended for high level ski racing. Fluorocarbons are especially effective in wet or slushy conditions by repelling the water from the bases.
Do I need a wax bench? 
Whether you are equipping yourself with a home tuning setup or an "on the go" race setup a solid surface will make everything easier and more efficient.  A thick level surface that can easily accept tuning vises will make all the difference. 
We are often asked if saw horses or woodworking benches can serve the same purpose, and the answer is always no (except possibly for children's skis which are very short).  A stable platform that allows your vises to sit level and be stable during the scraping, brushing, and filing that occurs during regular ski maintenance not only makes the processes easier, but will also keep hands and knuckles scrape and cut free!  Saw horses will shift far too much and have nothing to support the center of the ski.  This allows the ski to flex and wander especially during scraping and brushing. 
There are many table sizes available, and the best choice will depend on what types of equipment you will be tuning and the space you have to do it in.  When tuning longer length skis, especially cross country and giant slalom skis a longer profile table is a must. This gives you more room to space your vises and makes for a more stable ski and easier use.  For snowboards or when space is limited shorter tables are also available.
DataWax stock the Swix T75W waxing bench as we consider this is the best value bench that is stable without being too heavy. (11kg)
How to Use Structure Pads
Your DataWax Structure Pad Kit contains two pads:- a rough brown pay and asmoother green pad.To use a structure pad, wrap it around your acrylic scraper and lightly push or pull it along the ski from tip to tail using long smooth strokes.
Brown Pad
Use the brown structure pad to "open the pores" in your ski before you wax, so that the wax can enter the base.  Use 2-3 passes of the ski base pressing moderately firmly. Wipe off any dust and debris and clean the base before waxing.
Green Pad
Use the green structure pad to lightly roughen the wax after you have scraped (this prevents surface tension allowing the ski to glide more easily). Use 1-2 passes over the length of the base in long smooth strokes – only gently pressue is required. Wipe off any excess wax before clamping your skis with DataWax Ski Ties.
Using a Plastic Scraper
Before scraping allow the ski wax to cool to room temperature. Half an hour to an hour is probably enough but the longer the better. 
Remember the important wax is already within the base, you are only scraping off the excess.
Hold the scraper firmly in both hands, apply even pressure and push from tip to tail taking the excess wax off. Use long smooth strokes. Keep doing this until you have little or no wax left visible.
Finish by wrapping the green structure pad around the scraper and pushing it along the ski, tip to tail in long smooth strokes to add structure to the fresh wax.
(if the wax is too smooth then surface tension will slow down the ski – hence the slight "structure" from the green pad.)
How much wax do I need?
It usually takes about 15 – 20 grams to hot wax one pair of skis or one snowboard, therefore a 110 gram block should last approximately 5-6 services.
 Rub on wax provides many more applications on a per gram basis (approximately double), however it will wear off significantly faster.
How long does it take for wax to cool?
 Generally we would recommend that you leave your bases for at least 20 minutes, but the ideal would be 45 minutes for the wax to sink in as much as possible and for it to absorb the wax as much as possible.
How often should I wax?
Really it depends what you are doing.  Normal holiday skiing on decent snow - about once every 3 or 4 days,  on a BASI course - every day,  racing - every run.
Certainly as minimum we would recommend that you check your bases and edges after each trip. This also means that you are ready to go for your next trip!

However the more often you wax the better performance you will get, so the more enjoyment you will have from your sport.  If you can wax at least every couple of days during your trip that's even better!
 
If you are going on holiday and space (or weight) is limited in your luggage then consider packing some Superslip, an Alpine Rub On or some Fast Wipe Sachets!
Choosing a Wax for Your Holiday
Making sure that your skis are waxed and edged before you go on holiday will definitely help ensure you have more fun on your trip. Easy turning, good grip and no more pushing across the flats, - what is not to love?
For the very best experience you need to choose the most suitable wax- but what?
Selecting your wax is mainly affected by snow temperature. Remember that it is the temperature of the snow and not the air temperature. The only way to measure snow temperature accurately is to use a thermometer, however this is rarely practical, especially if you are servicing before your holiday!
You should choose a wax from our best selling  DataWax HP range.

DataWax Universal HP wax is designed for all snow conditions and covers the wide range of snow temperatures and types. This makes it ideal for anyone unsure of the conditions they will be skiing or boarding in. DataWax Universal HP is also designed to be extremely long lasting by having additives to ensure it stays in the base for as long as possible. Although Universal is ideal for all conditions, it cannot offer the same level of performance as a temperature specific wax.

Using the correctly selected temperature wax will significantly increase performance. If in doubt use a slightly colder wax than for the snow conditions you expect.


DataWax manufacture three high performance and temperature specific waxes for use on snow in alpine environments.

These performance grade waxes are:
Butane HP
For -6 to -16°C, man-made and glacier snow
Magma HP
For -8 to 0 °C, mid season
Sunfire HP
For -2°C and warmer, wet slushy snow

All DataWax HP waxes contain a low concentration of  fluorocarbons, which are very hydrophobic (repel water molecules). These make the wax easier to apply nad improves the glide and ease of turning
Preparing to Wax
Ironing & Waxing